Mikuni Campus was built in 2015 as the first campus among Aiwin schools and since then has been offering it's dynamic curriculum and school programs from students 0 to 6 years old. Mikuni campus is a school community of over 60 students and 13 teachers and staff from different nationalities.  It is situated in Yodogawa City, as part of the vibrant city of Osaka. As a consequence, our students have easy access to numerous educational and recreational areas and facilities that supports learning in the early years. Mikuni campus is a certified Nursery Care Facility by Osaka City Government (Ninkagai). It is also qualified for Government Sponsored Education Benefits (Mushouka). 

All our classrooms contain inviting and engaging learning centers and resources, which the homeroom teacher intentionally uses throughout the year based on the children's interests and areas of weakness and strength. Dramatic play center, Math manipulative center, Science center, Arts and Crafts center, Literacy center are just a few examples of what children explore at their own pace through purposeful play. Use of technology is also used in centers to enrich learning experiences through our online reading workshops, research and creative activities.

Strong literacy skills are key to academic and professional success. To support students love for reading, Aiwin offers a library containing over 500 books as well as a great collection nursery rhymes and children songs. The library resources are available for students to take home and share the joy of readig with their families. Students also learn from a wide range of digital reading resources through the use of our tablets and computers. Like our books, students can also access our digital reading resouces at home that helps strengthen home-school connection.

Physical activity extends well beyond physical health, having a positive impact on the domains of motor skills, psychological well-being, cognitive development, social competence and emotional maturity. Our students have ample of rooms for physical development both indoor at the gym or outdoor on the playground. Students have a wonderful time outdoor doing their daily morning exercises, PE classes, outdoor games, gardening and even pool time in the Summer.

With the use of their senses, our students explore and disover food and nutrition in our cooking studio. Our modern kitchen features a cooking studio for the children to work collaboratively with their teachers and peers on cooking projects. Children learn a great deal about math and science and improve their social skills dramatically in cooking projects. More importantly, they learn to value food and develop a pleasure of sharing meal time with their friends.

Student's safety and comfort come first at Aiwin. All of our classrooms as well as entrance and playground are equipped with security cameras and connected to an internal monitoring television constantly observed by our staff. All rooms have emergency buttons connected that calls for security team. For comfortable napping, a spacious traditional Japanese-style room carpeted with waterproof Tatami are kept clean and neat for students to rest and re-energize within the day.

Detail

Bachelor of Arts in Psychology;, 2 years teaching experience for Pre-K through High School and all levels of adult students at an English conversation school; likes sewing, making handmade goods, trying new foods, and hot springs.

Hi there! My name is Jessica. I am from Chicago, Illinois, USA. I have lived in Japan for over two years and am enjoying it thoroughly.
I have had the pleasure of watching many children develop and learn new communication skills.
My goal is to show children that communication is fun, and that when we try our best great things come from it. Children have such a wonderful ability to try their hardest at every task, while not being afraid of mistakes.
Every child is different in the ways that they learn and absorb information. Finding the best way to help with each child's individual needs is what is so rewarding about working with children from a young age.
I hope to help the children of Aiwin to become confident in their own abilities and to grow into the globally successful people that I know they can be.

CLOSE

Detail

Graduated with a degree in Bachelor of Education in Basic Education and a Masters Degree in Computer Science; Has been a teacher for more than 7 years in Preschool, Elementary, and Junior High School levels; fond of playing sports like soccer, reading, listening to music, & traveling.
Hello, my name is Osei! I have a passion for teaching and helping young learners to unearth their hidden potentials. I believe learning by doing is one of the best ways and so I try to create an active learning environment to engage all learners. I also believe student nurture is a collective responsibility for both teachers and parents, therefore giving and getting frequent feedback from parents and colleague teachers play a major role. I look forward to working with you in nurturing our students to be responsible individuals now and in the future. Let's learn together, not only in the classroom but outside as well.

CLOSE

Detail

Licensed Professional Teacher with a Degree in Bachelor of Early Childhood Education and a Master's Degree in Business Administration; with extensive experience in teaching Preschool levels in a Montessori International School in the Philippines.

Hello everyone! My name is Zorayda. You may call me Dada. I am from the Philippines. I was a preschool teacher in the Philippines for two years and organized various school events. Being an instrument as an educator, especially to children, has always been in my heart. Beyond words, they uplift my spirit and give lots of intangible rewards that are beyond compare. It is said that learning is a relatively permanent change in behavior that occurs as a result of experience. It is my goal to make sure that children will have a fun learning experience here at Aiwin International School and that I give a positive contribution to their growth and development.

CLOSE

Detail

Graduate of Bachelor of Arts in Education and a Bachelor in Liberal Arts, majoring in Japanese Society and Global Culture; Two-year experience teaching junior high school students; worked as a broadcaster on radio, broadcasting news in English and children's programs in home country Uganda; likes studying and learning about other cultures, listening to music, and cooking.
Hello, my name is Akoth Alice, you can call me Alice. I am originally from Uganda, in Eastern Africa. Although initially qualified to teach high school, I find more joy in teaching children. I'm delighted with the progress and growth children make acquiring cognitive, emotional, practical, and socialisation skills and express themselves in English as a second language. I'm excited to be part of the team at Aiwin International school and I hope I can positively impact the children and contribute towards nurturing confident, creative, and global minded citizens.

CLOSE

 Hello everyone, It's nice to meet you. My name is Will and I'm from Pennsylvania, USA. I lived in Kanto for 10 years. My first few years I lived in Yokosuka and served in the US Navy. After my service, I went to college in Tokyo to study political science and international relations. I taught part-time at many different English companies during my college career. Those jobs helped me realize I no longer wished to work in government. I returned t」o the US to study psychology to better understand a child's mind. I use a lot of Erik Erikson's psychological theories in my teaching methods. Teaching children brings me joy. My philosophy is that children are the future and it's our job to help them succeed in whatever they choose to strive for. During my life I've travelled the world and experienced their cultures. We live in a global society where English is the most spoken language for both business and travel. Helping children start learning the language gives them more opportunities in the future that they would otherwise not have. I like to make the learning experience enjoyable for students. I look forward to working with your children and helping them succeed.

CLOSE

Detail

With 5 years of teaching experience as an Assistant Language Teacher; Graduated with a Bachelor's degree in Interior Architecture; certified in Teaching English as a Foreign Language Teacher.

Hello, my name is Wayne. I originally moved from Ireland to Japan as part of the JET Programme in 2018, and I've spent the past five years working as an ALT in a high school in Shizuoka Prefecture. I have a lot of different interests in life, but so far, teaching has been the thing that has brought me the most joy, so I hope to continue teaching English in Japan for a long time to come. I studied architecture in university because I have a deep interest in creativity, design and history. In fact, creativity is something that I try to incorporate into everything I do, including my lessons. I believe that creativity is a powerful tool which can enable students to really express themselves. In my free time, I enjoy outdoor activities like hiking, riding my BMX and playing soccer. I also try to make time to study Japanese on a regular basis, with the hope of one day become a fluent speaker. My favorite Japanese saying is 'いい雰囲気', because I think I have a natural gift for creating a warm and comfortable environment wherever I go. I've already made so many wonderful memories over the past five years, and I'm looking forward to making many more in the years to come!

CLOSE

Detail

Kindergarten teacher and Nursery teacher certification level 2; 5 years teaching experience in Kindergarten, childcare worker for 8 years; interested in yoga, playing the paino, watching movies and travelling

Nice to meet you. My name is Junko Tsujimoto.
So far, I have been involved with many children as a kindergarten teacher and as a nursery teacher. During that time, I am happy that I learned a lot through the growth of my children and was involved in the growth of each and every one of them.
I also studied abroad in the UK for about a year and was able to meet many people from various countries. It was a very valuable experience for me that I was able to broaden my horizons by knowing various cultures. At Aiwin, I want to be involved in helping children express themselves and grow freely.

CLOSE

Detail

 Certified Nursery and Kindergarten Teacher in Japan; 2 years experience working at an orphanage in Japan.
Nice to meet you. My name is Sayaka Taira. My hobbies are listening to music and watching movies. I worked at an orphanage for two years. I'm very happy to be able to see the growth of AIWN children up close. I want to support the children so that they can play freely and try various things every day. It's a pleasure to meet you.

CLOSE

Detail

Certified Nursery Teacher in Japan; 3 years teaching experience in Australia as a Certified Childcare Worker Level 3; 2 years teaching in Japan in English and Japanese. My name is Mariko Kimura, I love English! I lived in Australia where I studied English and childcare, I was there for 3 years! I have continued my work in childcare in Japan now for 2 years, so I have around 5 years of experience! I have mostly worked with 0-1year olds, but have spent time with all ages. I have taught both English and Japanese. As a childcare worker, the things I always wake up excited for are the children's smiles, their happiness, and how they learn and grow with every experience. My beliefs are that children learn best through play, responsibility, and interacting with others. All children are different and grow at their own pace, so it is important to create an environment where everyone benefits, and can grow as an individual. I enjoy communicating with parents, and am always happy to support everyones' wants and needs. I have passion in teaching and enjoy personal growth. and am excited to start this new chapter with you. Feel free to approach me at anytime, I am always here to listen!

CLOSE

Detail

Bachelor of Science in Engineering, professional Engineer in Computer Science, likes reading, hiking, camping and videogames. Hello, my name is Samuel Goldfarb. I come from Chile, where I spent my university years volunteering on recreational and educational activities with kids in vulnerable communities. There I got to experience first hand how important and life changing it is for every child to have a safe and encouraging environment to socialize, learn, experiment and satiate their curiosity. It filled me with joy to see that I have helped a child develop new friendships and trust in themselves. While working in Aiwin, I will strive to give an environment like that to every child. I think it is one of the most precious gifts one can make, to provide them the opportunity to develop their talents, confidence, and the necessary skills in order to successfully navigate the life ahead of them.

CLOSE

Detail

Nice to meet you. Earned a Bachelor's Degree in Linguistics and Literature; Gained Eiken Pre1 and Financial planner 3 certifications; like traveling, learning new languages, eating, Karaoke, watching movies, playing sports. Hello everyone! My name is Saya Sugiura. I studied in New Zealand for a year when I was 16 and I've learned how important it is to be able to communicate in different ways and how big the world is through different languages. I enjoy learning new things and meeting new people because it broadens my horizons. Please feel free to talk to me anytime. I look forward to seeing you all everyday and cannot wait to make unforgettable memories with all of you.

CLOSE

Detail

Hello! My name is Misa Masuda and I am in charge of accounting. My hobbies are watching movies, karaoke, traveling and listening to music.

Before coming to Aiwin, I worked in the medical industry for more than 5 years. I came to Aiwin because I wanted to try more things and was interested in international schools. I am very happy to work in an environment that is conducive to learning. And I am healed every day by the smiles of my beloved children. My basic work is back office work, so I may not have many opportunities to meet you all, but I would appreciate your help when I do. looking forward to seeing you all.

CLOSE

Detail

Junior sports instructors, kids leaders, Red Cross first aid; Physical Education and Gymnastic Instruction for Kindergarten; interested in fitness and sports

Nice to meet you. I am in charge of physical education. My name is Kanna Ogawa. I would like Aiwin children to think that "exercise is fun!". Through physical education guidance they can develop "mindset" such as compassion as I try to support "physical development" necessary for young learners, to be able to grow both physically and mentally. I would be happy to make PE class where everyone, including children and teachers, would find exercise and physical education to be fun. Let's enjoy the exercise together. Thank you.

CLOSE

Detail

Mukogawa Women's University School of Music School of Instrumental Music Major in Piano; teaching experience in musical intellectual training for piano, organ, voice training and chorus for different age groups; likes traveling cooking, watching movies, scuba diving

Hello everyone! Nice to meet you, I am Katsura Kojima and I am a music teacher.Being in the music profession fo rover 20 years, I give guidance to children in learning the fundamentals of music, such as music appreciation and learning rhythm, while enjoying.
I believe that "Enjoyment is the shortcut to improving"Learning music at a young age develops good listening skills and emotional skills, and it is said that singing songs has very great effect on the development of language, among other things.
I am looking forward to singing and dancing together with enthusiastic Aiwin students and have fun exploring music together.

CLOSE
Annual Events
年間行事・イベント
SpringSemester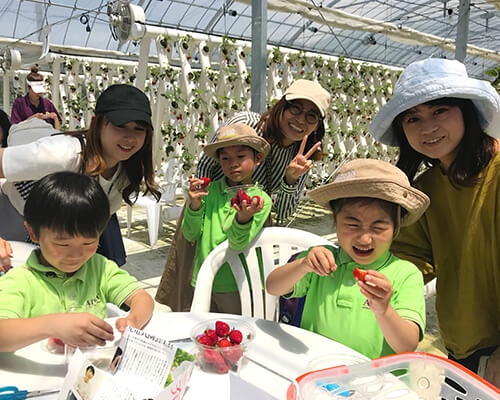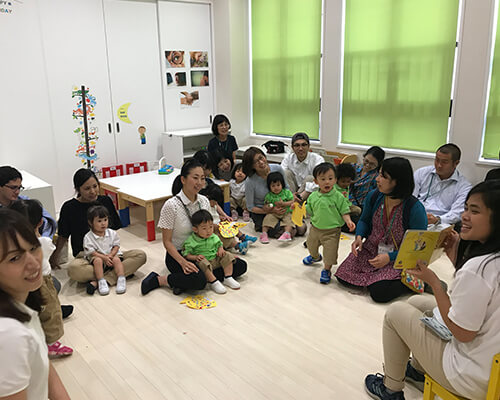 April

4月

Start of Spring term春学期スタート

Back To Schoolバックトゥスクール

Easter Celebrationイースター祭

May

5月

Family Picnic親子遠足

Children's Dayこどもの日

June

6月

Start of Summer Term夏学期スタート

Open Day保育参観日

Numeracy Week算数週間
SummerSemester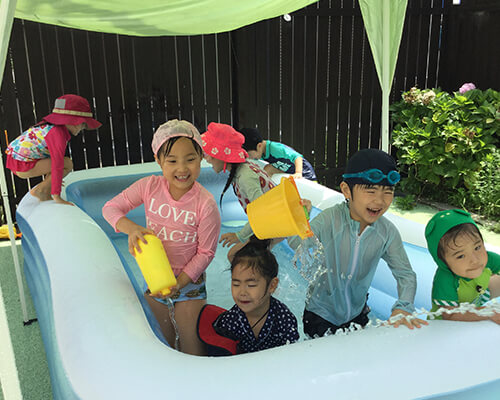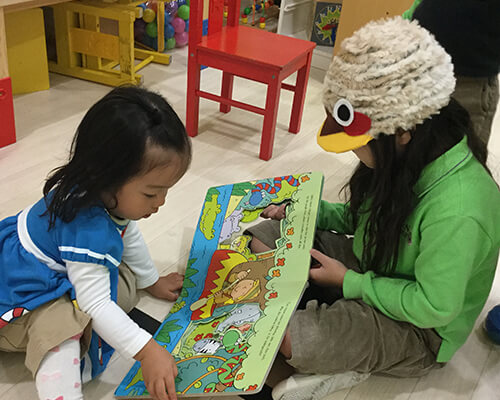 July

7月

Tanabata七夕

Pool Playプール遊び

International Festivalインターナショナルフェスティバル

August

8月

Summer Schoolサマースクール

Summer Break夏休み

September

9月

Start of Autumn Term秋学期スタート

PTC個人懇談

Literacy Week読書週間
FallSemester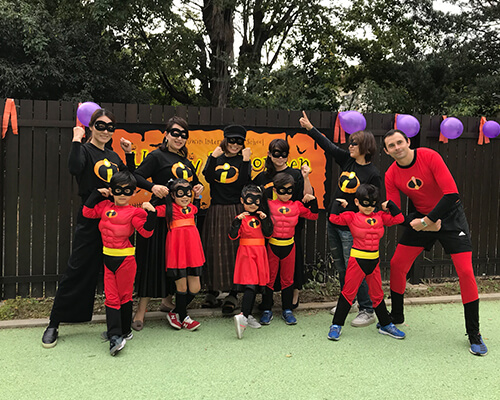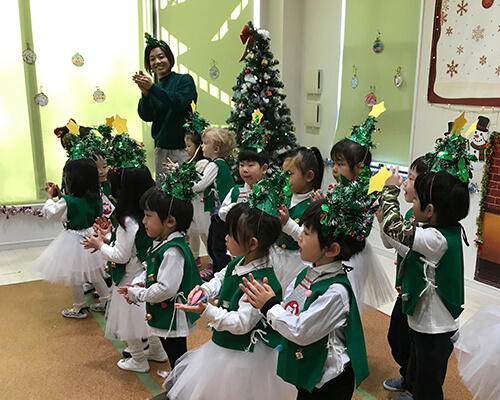 October

10月

Sports Dayスポーツデー

Halloween Partyハロウィンパーティ

November

11月

Thanksgiving Party感謝祭

December

12月

Winter Concertウィンターコンサート

Winter Break冬休み
WinterSemester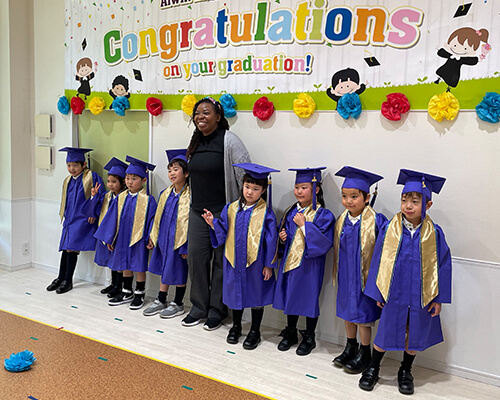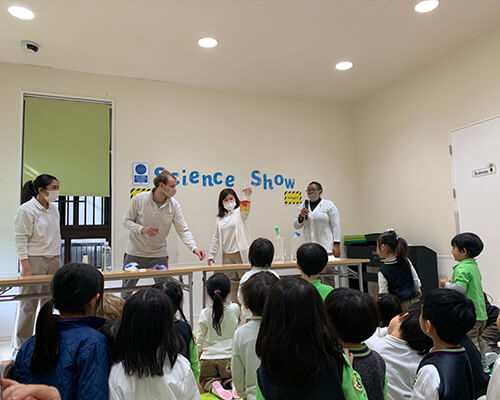 January

1月

Start of Winter Term冬学期

Science Week科学週間

February

2月

Setsubun節分

March

3月

Doll Festivalひな祭り

PTC個人懇談

Graduation Day卒園式

Spring Break春休み
※毎月、お誕生日会と避難訓練がございます。
※健康診断(年2回)、歯科検診(年1回)ございます。
※年間行事の予定はその年により変更することがございます。
※Pre/ JK / Kの学期ごとに社会見学がございます。

Address

1-36-21, Nishimikuni, Yodogawa-ku Osaka-shi, Osakafu, 532-0006

By train

Subway Osaka Midosuji Line, about 10 minutes on foot from Higashi Mikuni station, exit 2
Hankyu Takarazuka Main Line, about 10 minutes on foot from Mikuni station, North exit

By car

About 10 minutes from Shinosaka depending on traffic
(Please use the parking lots available around the school.)

TEL

06-6397-3010

FAX

06-6397-3011