Senriyama campus opened its doors to students and families in April, 2023. It is the third campus of Aiwin International School, situated in Suita City, 10-15 minutes away from major train lines, making our unique facilities easy to access for both parents and students It houses a diverse school community with families and teachers from different parts of the world, offering an atmosphere of a true international school. It has been recognized as a certified Nursery Care Facility (Ninkagai) in Suita City and is also qualified for Government Sponsored Education Benefits (Mushouka).  

All our classrooms contain an inviting and engaging learning centers and resources which the homeroom teacher intentionally uses throughout the year based on the children's interests and areas of weakness and strength. Dramatic play center, Math manipulative center, Science center, Arts and Crafts center, Literacy center are just a few examples of what children explore at their own pace through purposeful play. Use of technology is also used in centers to enrich learning experiences through our online reading workshops, research and creative activities.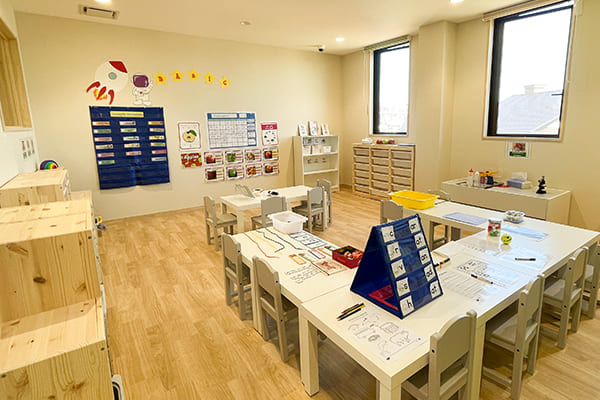 Strong literacy skills are key to academic and professional success. To support students' love for reading, Aiwin offers a library containing a great collection of books, picture books, magazines and comics. The library resources are available for students to take home and share the joy of reading with their families. Our library also serves as our Media room where students engage with technology to support their 21st century skills. Students also learn from a wide range of digital reading resources through the use of our tablets and computers. Like our books, students can also access our digital reading resources at home that helps strengthen home-school connection. Theme-related presentations are held to allow students to experience innovative learning.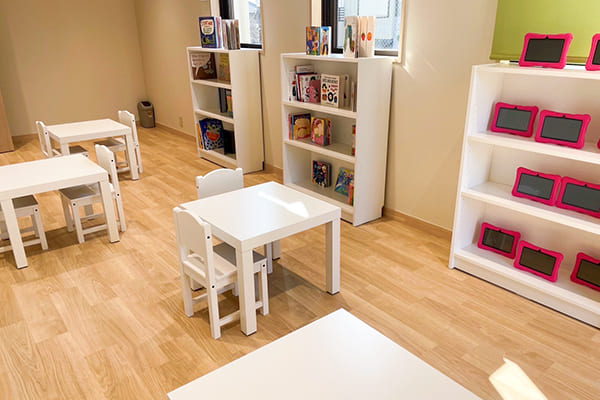 Physical activity extends well beyond physical health, having a positive impact on the domains of motor skills, psychological well-being, cognitive development, social competence and emotional maturity. Early Nursery & Nursery classes have direct access to their own outdoor spaces for sensory & creative play. All students have ample rooms for physical activities both indoor at the gym or outdoors on the playground where they do their daily morning exercises, PE classes, outdoor games, gardening and even pool time in the Summer.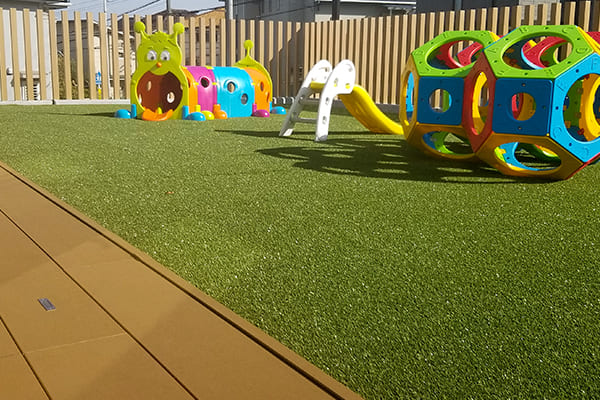 Our assembly room offers a comfortable space for children to gather during special activities like assembly day, cooking class & extracurricular clubs. Equipped with a fully functional kitchen, our learners are able to explore and discover food and nutrition during cooking class. During lunch time, our students share meal time with their friends, learn the value of food and practice important social manners. During daycare and extracurricular club times, it becomes a space for collaborative work and sensory play where students learn social interaction skills and grow their personal strengths & interests.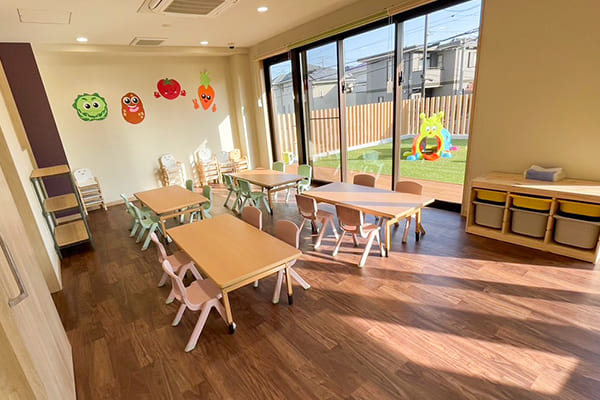 Children's safety and comfort come first at Aiwin. All of our classrooms as well as entrance, playground and parking are equipped with security cameras and connected to an internal monitoring television constantly observed by our staff. All rooms have emergency buttons that connect to a security team during emergency situations. For comfortable napping, a spacious traditional Japanese-style room carpeted with waterproof Tatami are kept clean and neat for students to rest and re-energize within the day.

Professional Licensed Teacher in Primary Education; Graduated with a Bachelor's degree in Elementary Education major in General Education; More than 6 years of teaching experience in the Philippines and Japan; fond of music and playing musical instruments, drawing, dancing and exploring new cuisine.
Hello, my name is Kathlene! I am from the Philippines and have been living in Japan for the past 5 years. Working in the education field gives me the privilege to see my students grow to become confident, creative and expressive of their unique individuality. I believe that the foundation of learning is a warm, supportive and caring learning atmosphere which is what I aim to provide for my students. It is y goal to make our class engaging and interesting to support life long learning.

CLOSE

Detail

Bachelor of Arts in Japanese Studies; over 4 years experience in teaching English to young learners; enjoys travelling, learning languages, exploring new cultures, snowboarding, hiking, playing the guitar, listening to music, reading and practicing Aikido.

Hello, my name is Michal and it`s great to meet you. I am originally from the Czech Republic, but since I was 19 I have lived, worked and studied in English speaking countries such as Australia, USA, UK and Japan. 3 years ago I moved to Japan and started working as an English teacher for young learners and I thoroughly enjoy what I do.

To see the kids developing, improving their English skills and being able to express themselves in a foreign language is a great thrill and a pleasure to watch. I strongly believe, that having a good command of at least one international language plays a vital role in our global society. I look forward to meeting all of you and I will do my best to give all of my students the opportunity to broaden their horizons through English learning while having a fun!

CLOSE

Professional Licensed Teacher in Primary Education; Graduated with a Bachelor's degree in Elementary Education major in General Education; More than 6 years of teaching experience in the Philippines and Japan; fond of music and playing musical instruments, drawing, dancing and exploring new cuisine.
Hello, my name is Kathlene! I am from the Philippines and have been living in Japan for the past 5 years. Working in the education field gives me the privilege to see my students grow to become confident, creative and expressive of their unique individuality. I believe that the foundation of learning is a warm, supportive and caring learning atmosphere which is what I aim to provide for my students. It is y goal to make our class engaging and interesting to support life long learning.

CLOSE

Detail

Graduated from Kingsting University of London with the degree in Bachelor of Arts in Criminology and Creative Writing; Certified teacher with 150 hours in Teaching English as a Foreign Language; 5 years experience in teaching young learners between 2-10 years and Elementary school age students. Hello, my name is Emily! I am from England and I am 27 years old. I have lived in Japan for 5 years and it has been a wonderful experience teaching and guiding students to learn and grow. My goal is to bring laughter and joy to children while also improving their knowledge. I love watching children learn and improve everyday and this is what drives me to better myself. I am very much looking forward to working together with everyone. Let's have a fun and enriching time together!

CLOSE

Detail

Studied Bachelor of Science in Tourism and Hospitality Management. 5 year International working experience as an Executive Assistant in Engineering Contracting Company in Dubai. Also, worked as a Virtual Assistant position which was based in California, USA and as Reservation Specialist in IHG based in North America as well. I love traveling to explore more about different culture and learn more languages, I like taking photos and cooking during my free time as well.
Greetings and nice to meet you! My name is Shanon Pueblo and I am from the Philippines. I worked for 5 years in Dubai and moved here in Japan to pursue my goal and learn a new language. Aside from the skills that I have, having an International working experiences taught me to be flexible and adaptable to different nationalities. I was able to further improve my communication skills. Together with my skills and cheerful personality, I want to share the knowledge that I have by helping the students not only to communicate better in English but also to support their overall development through engaging and enjoyable lessons that will help them adopt a positive outlook. Let's have fun while learning!

CLOSE

Detail

Bachelor's degree in Art from the Pontificia Universidad Católica, Chile, and a Bachelor's degree in Education with a specialization in Visual Arts from Universidad Alberto Hurtado, Chile. She enjoys spending time in nature, taking photographs, swimming, and learning more about traditional Japanese arts such as Kintsugi and Urushi.

Hello everyone! My name is Pamela, and I'm from San Antonio, Chile. I'm an Art teacher. My professional experience in this field began with various volunteer activities teaching art and later self-managed workshops. Eventually, I decided to study pedagogy, and it has been a very enriching journey. I've worked in schools and conducted workshops in various institutions. Here in Japan, I've worked as an English teacher in afterschools and workshops. I'm interested in teaching preschool children because I believe that at this stage of life, they can develop important social skills through the understanding of emotions. Furthermore, their imaginative ability and expression of affection make this profession very rewarding day by day.

CLOSE

Nursery Teacher Certification, Kindergarten Teacher Certification Level 2; spent 7 years teaching Nursery and 2 year in Kindergarten level; she likes to travel, explore different gourmet, watch sports and movies.

Nice to meet you. My name is Naho Yoshikawa.
I studied early childhood education at university and worked as a nursery teacher and kindergarten teacher. Among them, I was interested in English, overseas childcare and education, and went to Australia for a year to study abroad. Therefore, I was keen to learn about the culture of foreign countries and the wonderfulness of overseas exchange, and to convey it to the children even when I returned to Japan.
By learning English and international culture at Aiwin, I hope that children will have a broad perspective on what the future will look like and will expand their potential and grow.
I hope that I will be able to become a bridge between Japan and other cultures by knowing both the good points of diversity.
To that end, I would like to convey the wonders of both English, foreign culture, and Japanese culture.

I am looking forward to seeing you in Aiwin!

CLOSE

Detail

Nursery teacher certification and Junior high school English teacher license in Japan.
Hello, my name is Ayaka Sakamoto.I have experience working in an elementary school. I like traveling, music and playing musical instruments. I am very interested in how foreign languages are acquired in early childhood, as I attended and learned a seminar on second language acquisition while I was in College. I am now raising two children. Everyday I am amazed at how fast they and Aiwin students are growing. I hope that I can make the kind of positive impact on the mind of children. I would like to help your children feel safe and spend happy time at Aiwin. Please feel free to talk to me.

CLOSE

Detail

Licensed Nursery and Kindergarten Teacher in Japan; Qualifies After School Child Instructor; extensive teaching experience in Nursery schools, Kindergartens and International School.

I've been working in childcare at kindergartens and nursery schools in Japan. In addition, I have experience in childcare at an international school. I have been spending time with my children while feeling the importance of exploring foreign cultures and languages while they were young. I am surprised by the children's ability to absorb and their daily growth every day. I want to get involved with my favourite Aiwin children with love.

CLOSE

Detail

Nursery Teacher Certification; with over 10 years of experience in an English Nursery School.

Hi. My name is Chikami Masuoka. After I've graduated from university, I've worked at a airline company as a CA. And now ,I'm qualified for nursery teacher. I have about ten years experiences as it. I'm interested in early English education. My children also learned English from 2years old. I think. It's important for children to have globall-minded, confidence to communicate with various people. From my experience as nursery teacher, I recognized that children learn and grow highly, through their wonderful experiences which is called " PLAY". I appreciate that I can spend many time with children ,in that their important time , and I'm going to help them to play and learn with an easy mind.

CLOSE

Detail

Hello! My name is Misa Masuda and I am in charge of accounting. My hobbies are watching movies, karaoke, traveling and listening to music.

Before coming to Aiwin, I worked in the medical industry for more than 5 years. I came to Aiwin because I wanted to try more things and was interested in international schools. I am very happy to work in an environment that is conducive to learning. And I am healed every day by the smiles of my beloved children. My basic work is back office work, so I may not have many opportunities to meet you all, but I would appreciate your help when I do. looking forward to seeing you all.

CLOSE

Bachelor of Arts in History and Philosophy; Certified Educator by South African Council of Educators; Over 6 years of teaching experience teaching children in an International School; enjoys reading, hiking and rock climbing.

Hello, I'm Riaan Jacobus Van der Walt. I come all the way from South Africa. I have been living in Japan for five years and have been teaching for seven. I earned my Bachelor's degree and postgraduate certificate in education from the University of South Africa, and have been working to improve my education.

I have multiple hobbies and things that occupy my time. You can find me painting or reading a book on rainy days, while at other times I enjoy hiking and rock climbing to challenge myself physically. I study Japanese tea ceremony and have lately spent a lot of time working on my programming skills as well.

I hope that I can contribute to the further development of all the students in my charge; learning and growing together with them. I hope to make my classroom a fun and educational place, where each day is engaging for the students. At the same time I hope to ensure they meet the end of the year more enriched and able to take on the challenges of the life that awaits them.

CLOSE

Detail

Hello. My name is Yuji Hashimoto and I am a physical education teacher.

I am good at gymnastics and soccer, and I love to move my body. With Aiwin friends I would like students to enjoy PE class. Failing or failing is not a bad thing. Don't be afraid to fail Let's challenge many different things! I have 18 years of teaching experience in physical education for young children, and is a JSPO (Japan Sports Association) certified coaching assistant. JFA (Japan Football Association) certified C-class instructor and a certified diffuser of the Sports Rhythm Training Association, representative director of NPO Canvas Sports Field.

CLOSE

Detail

Mukogawa Women's University School of Music School of Instrumental Music Major in Piano; teaching experience in musical intellectual training for piano, organ, voice training and chorus for different age groups; likes traveling cooking, watching movies, scuba diving

Hello everyone! Nice to meet you, I am Katsura Kojima and I am a music teacher.Being in the music profession fo rover 20 years, I give guidance to children in learning the fundamentals of music, such as music appreciation and learning rhythm, while enjoying.
I believe that "Enjoyment is the shortcut to improving"Learning music at a young age develops good listening skills and emotional skills, and it is said that singing songs has very great effect on the development of language, among other things.
I am looking forward to singing and dancing together with enthusiastic Aiwin students and have fun exploring music together.

CLOSE

Address

5-15-4, Senriyamanishi, Suita Shi, Osaka Fu, 565-0851

By train

Hankyu Senri Line, about 6 minutes on foot from Senriyama Station.

By car

About 15 minutes from Senrichuo depending on traffic

Parking

There are 4 parking spaces available for parent use.

TEL

06-6386-3010

FAX

06-6387-3011